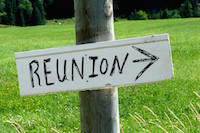 Subject line of the email simply read, "Mini Brant Reunion". I received that note a few days after visiting my cousin and his wife on Long Island, a cousin I hadn't seen in 45 years. The gist of that brief email was that we should have a family reunion. The next email's subject said "Brant Reunion" and the next one's expectation grew with "Big Brant Reunion". As I visited with my family in Texas, I was surprised that they all wanted to go and visit with a great aunt, cousins X times removed and hear the stories about our family.
So this June, Brant family members from Texas, New Jersey, Ohio and other locations will gather in Glen Cove, Long Island, New York, for a reunion that has been almost 50 years in the making.
It struck me as I imagined my grandchildren meeting my cousin's grandchildren wanting to hear how their grandfathers grew up, that I wondered if that's what Heaven will be like. I believe that we will recognize our family members who get to Heaven before us. While we will have a different body, a name God gives us on our forehead, and be in a place where there is no night or time, I think we will have a reunion with those we know and those family members we will be meeting for the first time. And then the sweetest part of the reunion will be when we gather in front of the throne and see our God's face! And in my mind, that's when he'll say to each of us, "Welcome Home my child." The reunion in heaven is written about in the first five verses of the 22nd chapter of the book of Revelation.
The Brant reunion in June excites me and it will be marvelous, but it will be nothing compared to the one we'll have in heaven.
Let's talk about the family reunion in Heaven. Join the conversation at
www.hopeforlife.org
or email me at
bbrant@heraldoftruth.org
.
New email subject line says: "Gigantic Brant Reunion Bash."


(Expressed written consent must be obtained prior to republishing, retransmitting or otherwise reusing the content of this article. Contact us at info@hopeforlife.org)